Eric
96 ACE 1100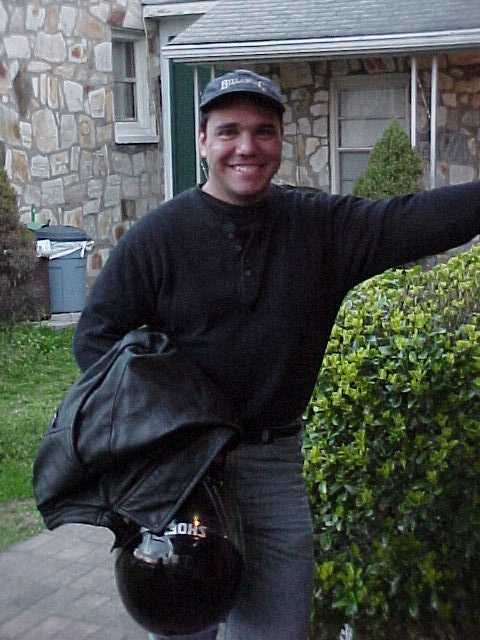 Narratives and Pictures from the Deal's Gap Ride I, April, 1999
Well, for those of you that couldn't make it... ya missed out! The weather cooperated
and we were treated to some really exceptional roads. Thanks James for setting this
up. Here are a few of the particulars...

I made it back to Dallas (Plano, actually) around 3:30pm Central time. Total distance
(if you believe the odometer) was 2282 miles. Depite the gloom-n-doom predicted
on the weather channel, I didn't see any rain until about 30 miles from the Texas
border. I had about 130 miles of wet roads and intermittent rain. Rain wasn't that
bad... the crosswind was unbelievable! Actually, made it thru the bad weather and
rode the last 60-70 miles in bright sunshine (and crosswind.

The ride to Robbinsville was pretty uneventful... Super slab the whole way until
I peeled off on Hwy 321 in Tenn, which eventually intersects Hwy 129. Well, if
you've been reading your Deals Gap posts, you know that 129 is the road with
a gazillion turns in 11 miles... I'm sure I knew that at one point in my life, but after
droning along for countless miles, my brain had turned to mush. This caught me a
little off-guard since the portions of 129 on either side of "the dragon" are enjoyable
but they shouldn't get you killed if you are a little road weary. Well, as I threw the
bike from one curve into the next, it occurred to me that this had to be the dragon.
Cuz if it wasn't, I was in for some trouble... About this time I dragged the shiney
Cobra floorboard on the right side of the bike. Now, I immediately knew what
happened, but that didn't prevent me from coming all unglued, losing my line thru
the curve, and damn near wetting myself... I eventually made it to the bottom of
the dragon and stopped to check my shorts at the Crossroads of Time motel.
Well, lets just say that whoever swayed the vote to get us over to the Phillips
Motel in Robbinsville, deserves multiple BPR's. The Crossroads is a bit rough
looking to put it mildly. Made it the remaining 20 miles to the motel without
incident (I think it was around 4:30 pm). Met James and Charice (sorry, I'm sure
I spelled that wrong) and we hung out and got some supper. The rest of the
crew showed up a bit later and we got the introductions and preliminary bike
oogling out of the way.

Saturday morning came too quickly. Weather looked ominous but it eventually
burned off. Spent the day admiring the scenery, carving the corners, eating and
taking pictures. Truly awesome...

Random thoughts...

- this is a good bunch of folks
- these folks can ride
- Mudflap is a big man
- Georgia bbq is very good
- watch Mudflap get his own table at bbq... let's see if anyone is foolish
enough to sit at his table... ding-ding-ding step right up Tony and have
a seat... Mudflap was civil, but I think Tony might've had to share his food.
- everyone in this group has enjoyed more life experiences than me. Now
part of that is that they are old and have had more opportunity, but maybe
I need to leave the office a little earlier. Something to think about on the
ride home...
- Marc is apparantly world reknown. We stop at the Crossroads of time and
he actually runs into some internet friends from the Sab/Mag list.
- Ron's 86 1100 is faster than my ACE. After repeatedly giving me a head start
and running me down (he actually passed me one time with a coffee in one hand
and a danish in the other) I got the message. I stopped playing when he ran me
down, pulled up along side me, yelled "giddyup" and then blipped the throttle and
disappeared around the next curve.
- I do believe Guy's pipes would rest on the ground if the side stand was on the right
side of the bike. I think I heard him scrape on a few straightaways. Of course that
could've been parts falling off of Mudflap's bike.
- Turning radius on my 96 ACE appears to be a little better than on Ron's 86. I will
leave it to the others to fill in the details (with pic's hopefully).
- Mike was/is a big partier or he was a boy scout. The man shows up with beer and
even knows how to turn warm beer into cold beer.
- Those of you with a hydraulic clutch can safely ignore the service interval documented
in your owners manual. For those of you riding an 87, you can safely go about 12
years. If you wait this long, you can expect the rubber boot in the resevoir to have
been sucked down to the bottom of the resevoir.
- Basic math is not the group's forte. Ron apparently is the best of the bunch. After
20
or so miles, he was the first to realize that "The Magnificent Seven" was no longer
"The Incredible Eight" that started the ride. They assure me this was an honest
mistake.
I'm not sure I believe em...

Overall, an outstanding trip. I'd do it again in a second. Thanks for the opportunity
to join in.
___________________________________________________________________________
Ron Harris
86 VT1100C
Groton, NY
AMA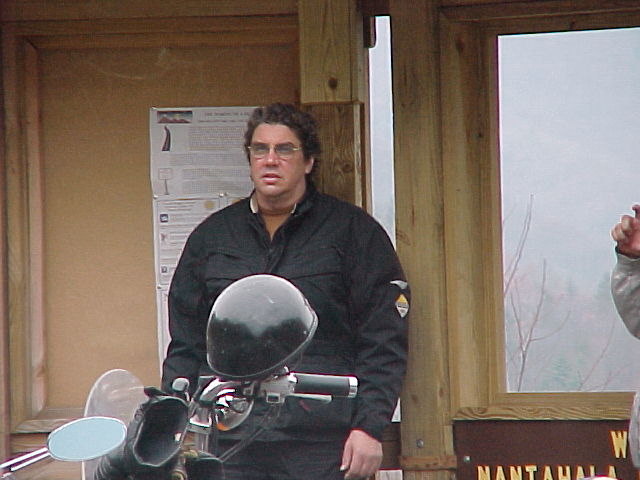 Packing up the bikes this morning, Guy turns to me and says "This is the
reason I bought a motorcycle". That simple statement says it all. Here we
are packing up for the final leg on the journey home. Having spent four
long days in the saddle and beginning our fifth and final day, we were all
riding a high. Good feelings abound, no thoughts of work and memories of
the most wiggly double lines I think we will ever see, Guy put that feelings
into words. The trip to Deal's Gap was just that, the ultimate ride.

My perspective:

Starting out Thurs morning was difficult, pouring rain. I was soaked by the
end of the driveway. That sucks. I rode in the rain for an hour. It
stopped raining just a few minutes before I met Guy in Binghamton, NY. When
I stopped, the bike was filthy (so much for all that work trying to make my
bike shine), I was filthy and I still had 800 miles to go. (Anyone who rode
NE2, can attest to how filthy a bike can get, this was worse, salt mixed in
with the dirt). Guy and I pressed on down I81 and met Marc and Tony near
the intersection of I80. It was good to connect with them. Tony has a
great looking bike that reflects the care and good taste he put into the
machine. Nicely customized, a thorough job with one exception, he needs a
larger seat.

The 4 of us slabbed it down I81 until Whites truck stop someplace in VA.
It's just a big truck stop with a giant alligator in one of the rooms in the
restaurant. They have an interesting gun collection, a giant CB shop and
many amenities for a trucker. We stayed nearby at a Day's Inn. We hit the
road the next morning, more slab to run. We met Mike and Mudflap at
Whytheville, VA. Mike seems like a together guy, not as vocal as Mudflap,
our group fugitive. Mike took on tailgunner duties and Mudflap blasted us
out with his straight pipes. He has one loud Shadow. His bike reflects his
life, spontaneous and no pretenses. To meet Mudflap is to like him.

Now there were 6 heading down I81 heading towards our destiny with the
Dragon. More slab, then some major backroads till we reached some smaller
backroads. I thought they were pretty curvy till we hit the road sign with
a wiggly arrow and a small sign "11 Miles". Before we even knew it, we were
meeting the Dragon (Deal's Gap). This is one intimidating road. The curves
never end. And are they ever sharp. Some could fit in my garage. My bike
spent more time leaned over than vertical. I was nervous, there are some
steep drop-offs and NO guardrails. No place to misjudge a turn, not much
room for error. And the turns never stop. One after the other. Add a few
sport bikes heading for you at impossible speeds and a car heading for you
half in your lane, and you have the things underwear gets stained from.
Then as quick as we got into it, we passed the Crossroads of Time motel and
were out of the Dragon. We all made it, not bruises, no scratched metal
other than drag buttons (Oh yes, and Guy's exhaust pipe, very manly riding).

On to more backroads to Robbinsville and the Phillips Motel, home for the
next two nights. There we met Eric, a really clean looking 1100 ACE, who
rode 800 miles from Dallas, and James and his girlfriend Charise (I hope the
spelling is correct) a highly customized Blue 1100 Shadow, from Alabama. An
evening was spent, looking at bikes, chatting and a few beers. We watched
this poor guy get stopped by the police which pulled open bottles from his
truck and promptly carted his ass off. Marc talked one of the policemen who
gave us the lowdown on police harassing bikers. It seems they are after the
"rice rockets" and leave us old farts on cruisers alone.

Sat morning we woke to an overcast day, but it was soon to burn off and we
found ourselves riding in sunny 85 degree weather. James put together a
tour for the day that was to never be forgotten. The roads are magnificent
in the Smokeys. I lost track of the exact roads we were on, but one
fantastic road after another was laid out in front of us. My favorite was
the "CherryCola" Skyway. A road that runs from mountain top to mountain
top, much of it over 5000 ft high. This road screams for a Sport Bike.
Mile after mile of fairly tight curves (nothing like the Gap). We all rode
at our own pace with many stops for pictures. A good time was had by all.
For most of a day, the double yellow lines never straightened out. I have
never seen so many miles after miles of twisties. Bikers paradise.

James' route was great, all was paradise until we noticed that we were
missing one bike. Somehow, Eric was not with us. James lost a bike. Now we
were seven bikes looking for #8. We never found him so we did what any
group would do, we blamed the leader and thought about our lost brother and
said 'Screw Him, He's on his own". Anyhow, Eric can relate how he was
abducted by aliens and tell his own story. The rest of us were relieved to
find him at the motel, safe and sound.

Another night of shooting the breeze with our friends and before we knew it,
time to go to bed to get a jump on the next day, another run thru the
Dragon. After breakfast we headed for the Gap, but first stopped at the
Crossroads of Time Motel for souvenirs and some talk with other guests and
bikers. Then we headed for the gap again.

This time we took a leisurely ride thru it with many stops for pictures and
look-sees. Here the Dragon got me. I was making a U-Turn to take a picture
of Guy and my front wheel slipped off the blacktop, forcing me onto the
shoulder which promptly gave way. Before I knew it I was in the ditch with
my rear wheel buried. I was stuck. Along came three of our group that
waved to me as the went by. The suckers didn't even ask if I was OK. At
Least Guy and Eric was there to push me out, not before taking some
embarrassing pictures of me.

It was funny, after the previous day of riding twisties, the Gap didn't seem
so threatening as the first time we rode it. Believe me, we all improved
our turning skills after a couple of hundred miles of twisties.

The rest of the trip was a reverse of the trip heading down. We started as
a group of six, with Eric the first to say goodbye as he headed either home
or back to the aliens. I suspect he hit some really lousy weather on the
way home. Hope he's OK. Next Mike peeled off and the Fab four made a mad
dash up north. Guy and I said goodbye to Marc and Tony at I78 and we
continued to upstate NY. I hope Guy made it OK. I think Guy gets the Iron
Butt award for the greatest distance.

All in all, this was the best bike trip of my life. I hope to make it
again next Easter. You are right Guy, this trip is the reason we ride
motorcycles
.
2035 miles, my longest bike ride in life, and the best.

Ride Safe and Prosper
_________________________________________________________________________
Tony "BA" Mag
98 Shadow 750
NJ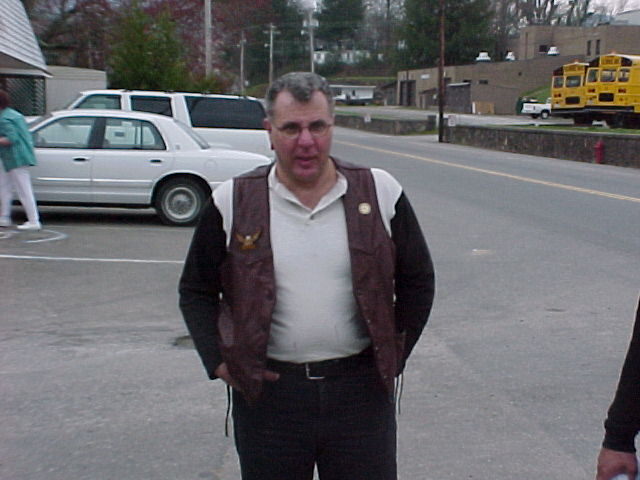 Well I made it back from the Gap yesterday, I got in a little after 5:00 PM.
1,946 miles of pure fun. As Ron said "this is why I bought a bike." ain't
it great? Marc, Guy, Ron, Mudflap, Eric, Mike, James and Dorinda, it was
great to meet yall. A few blocks from my house the words to an old song
keep ringing in my brain. The line is from Eve of Destruction. It goes "and
when you return it's the same old place." Not that I dislike NJ as much as
some people that were never even here do, but I was away from it all on a
bike riding dream ride and it was now over. Dam, back to reality.

One road after another just keep getting better and better, thanks again
James for that four state tour in the mountains. The roads and the scenery
are awsoum down there, not that I got to see much trying to keep up with you
speed demons, well not Mike he don't seem to be in a hurry either. I'm glad
Marc took some time to give me some pointers for riding the twisties, thanks
Marc it really helped. I can't wait to go back next year, I just hope some
other people from NJ come along to help me defend the Garden State.

Who would have thought that seven grown men can't count to eight, sorry
Eric. I was glad to see you at the hotel when we got back. Mudflap, could
you tell me again how to drop bike insurance, I think it has something to do
with your license. Mike, I'm looking foreword to seeing ya again when I'm
back down that way in June for the Hoot. Ron and Guy, it was great riding
with ya. I know why you had me riding in the back, cause my big butt blocks
those trucks. James your gonna have a hard time mapping next years route,
cause this one will be hard to beat, great job. After hearing that waitress
next door talking about that blue bike I now see why you have that nice
Custom Blue paint job. Marc, I think I might call you the Mayor of the road,
the way you stop and talk to everyone along the way. It's like you know
everyone. It was a pleasure riding with you and having you lead the troops.
This was a great ride guys, anyone who missed it this time should mark it on
your calendar for next year, you won't regret it.
____________________________________________________________________________
And now the rest of the trip: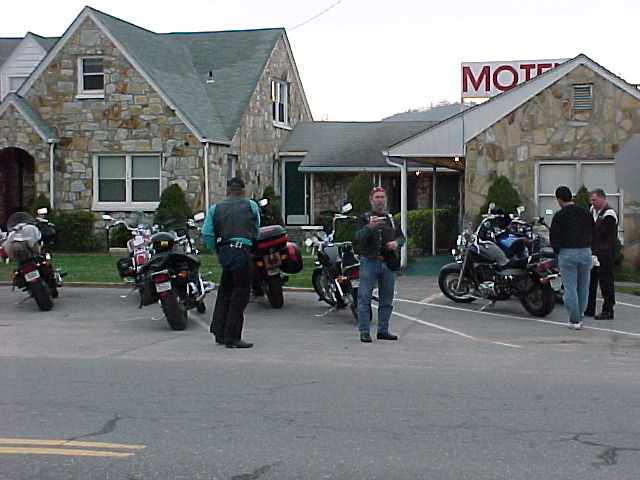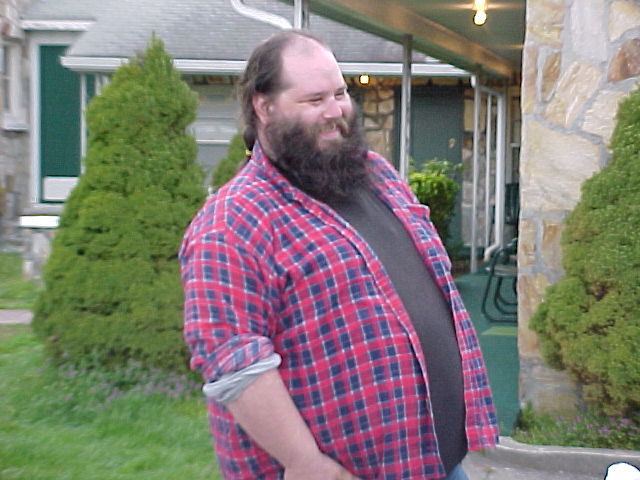 Gang at the Phillips Motel and Mudflap....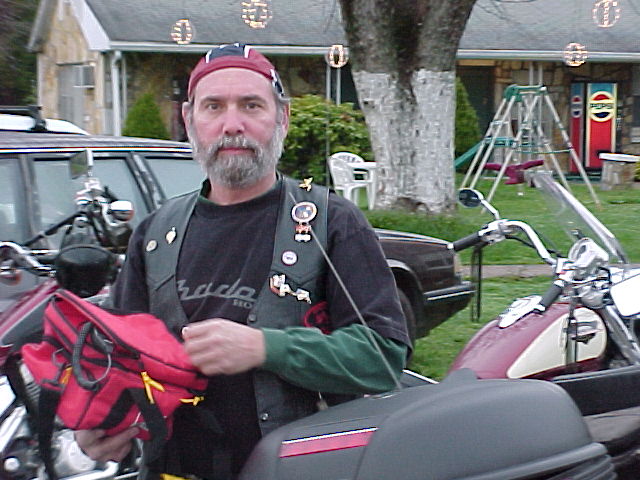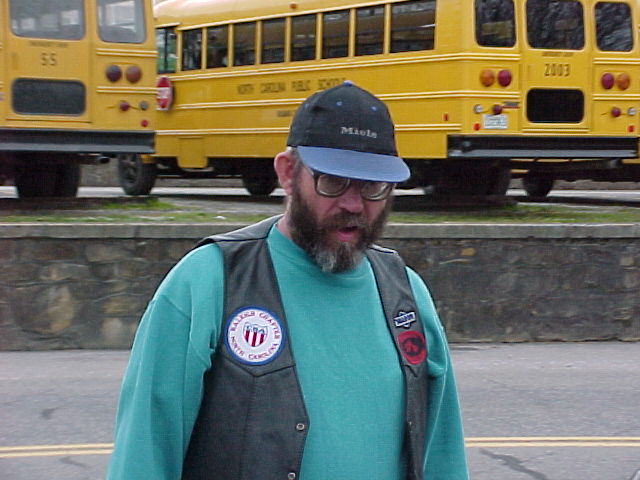 Marc and Mike Hodges......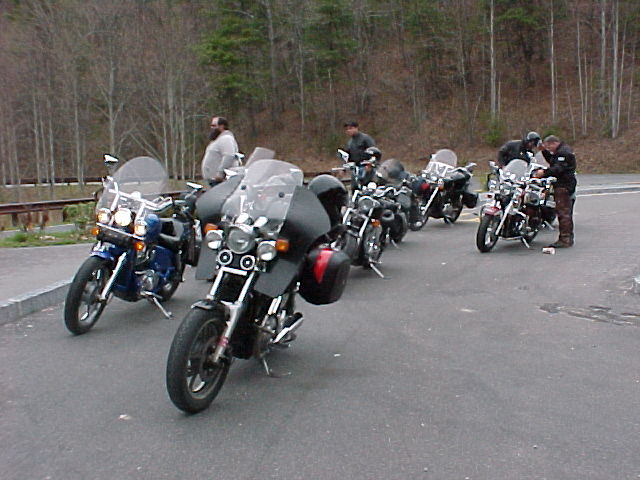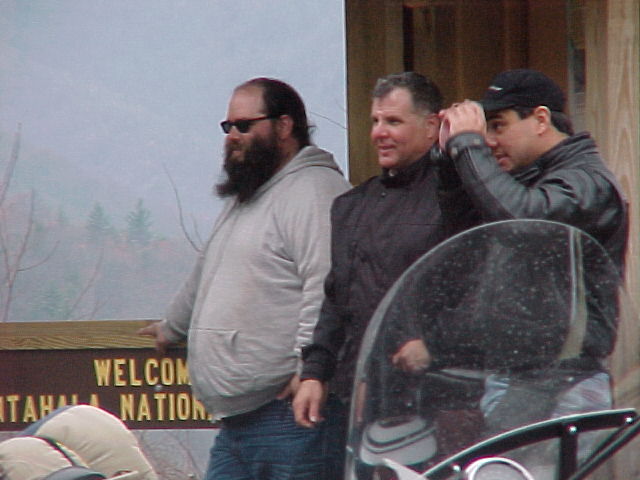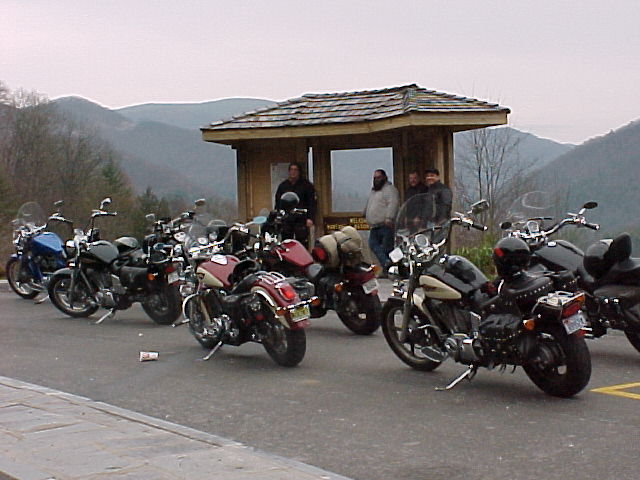 The Gang at Cherry Cola Highway......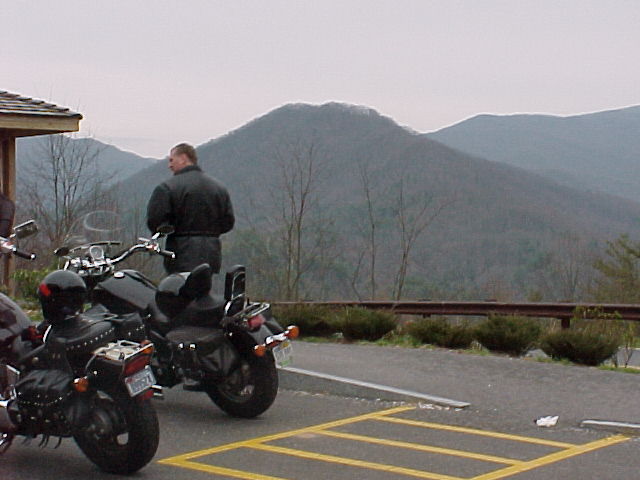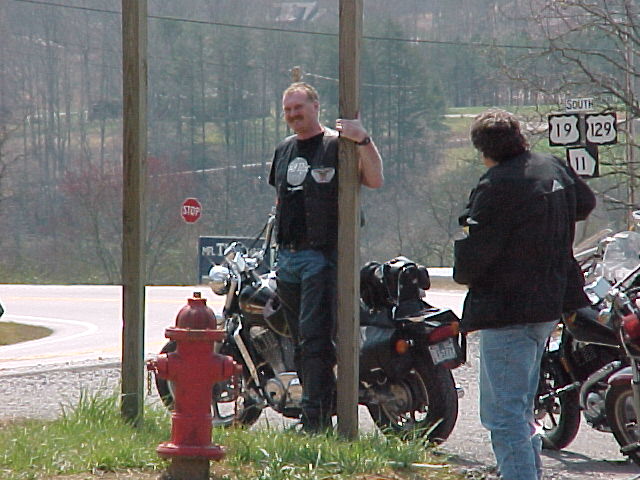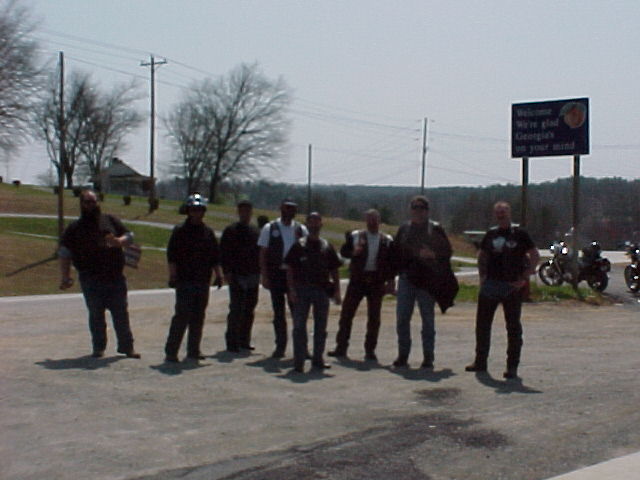 Guy in the Mountains, Guy and Ronn at Ga. State Line, Gang at the GA-NC State Line.....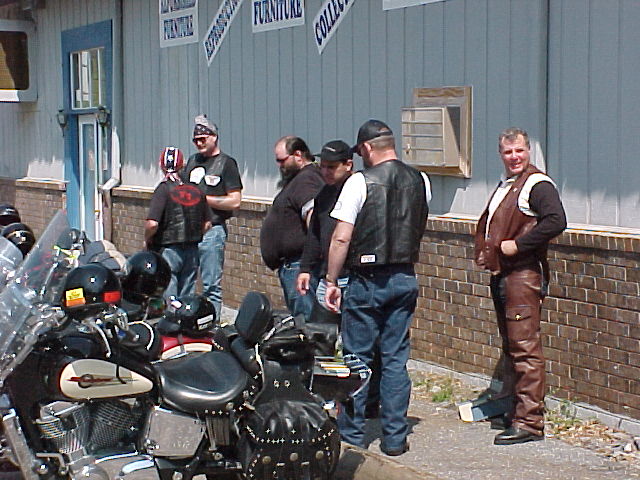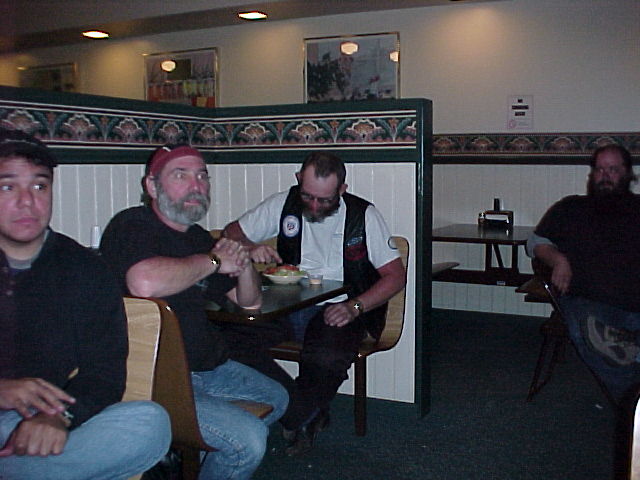 Eatin' at a BBQ place, Eatin' at a Pizza place, sorry no picts of eatin' at any other place.....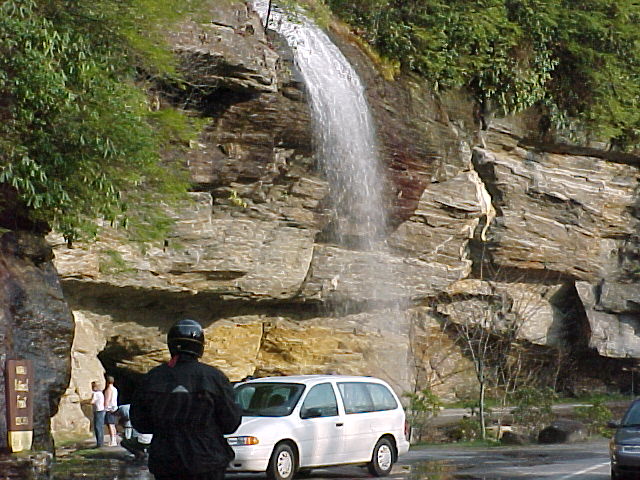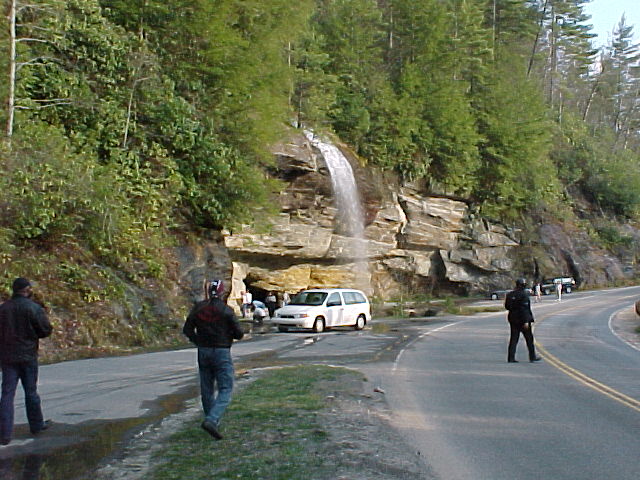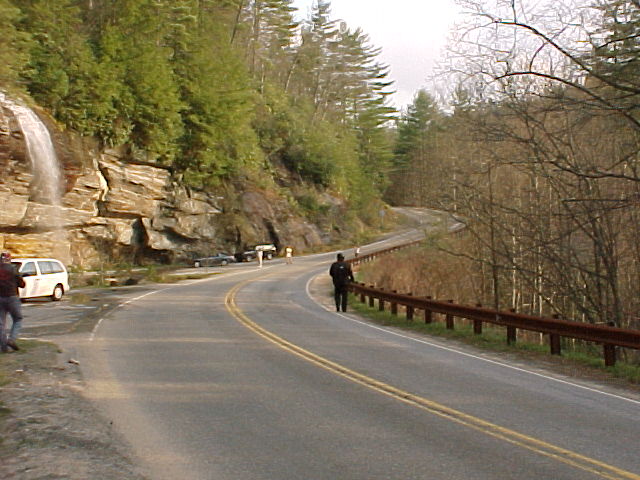 At the waterfall...CHECK THE ONES OUT BELOW, THESE ARE CLASSIC::::::