Trip Report...OK-1

Riders....

Fareweather Bill Perego....1979 Harley-Davidson Sportster 1000
Hondaman Steve Jennings....1984 Honda 700 Nighthawk
DJ Wheeler....1983 Honda GL-1100 Goldwing (Offical Road Captain for the
OK-1 Run!)
Adam Slaughter (Slider)....1980 Honda CX-500
Dave Stangel (Tripod)....1993 Honda GL-1500 Trike
Eric ....1996 Honda 1100 Shadow ACE
Roadkill Rich....1997 Honda 1100 Shadow ACE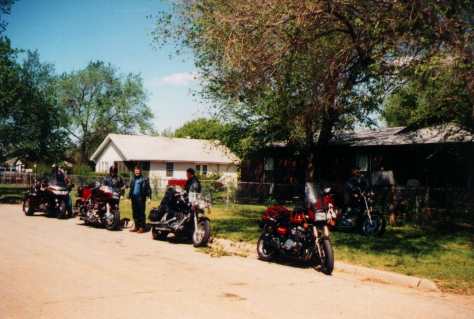 Getting ready to leave Fareweather Bill's Roadhouse....

Day 1...April 16, 1999 Start Point, Oklahoma City, Ok.

A Beautiful Day!!! I checked out the Shadow one more time. It's a good
thing too, because the rear tire was showing cords through the tread!!!!
OK, looks like the Sporty for this trip!! The Temps were in the mid 40's
when we started out. The Harley's all loaded. I'm setting in the house
eating breakfast, and waiting for the other guys to show up. The first to
arive was Eric from Plano, Tx. Poor guy was about shivering when he walked
in the house!!!! I gave him a hot cup of coffee, and we checked out "The
Silver Streak".
The next to arrive was what I call "The Seagate Gang", as
we all work at Seagate, and ride together. After a couple more cups of
coffee, we get ready to ride. Rich gives me a call at about 10:00, so I
tell him about the change of route, and to meet us at Wetumka, Ok. Finally
at about 11:30, the roar of starting bikes is heard in my neighborhood!
OK-1 is under way!!!!!! I know, we left late, but IT WAS COLD!!!!!!! We
headed to Norman, Ok and headed east on Hiway 9. We crused for a while.
As I was riding the Sporty, I had to stop for gas every 60 miles!!!!
This side of Wetumka, we met Roadkill Rich, and continued to the next gas stop,
where introductions were made. At Eufala, Ok. we stopped for a couple, a
Pizza, and some good conversation. Then it was time for the run to Poteau,
Ok. where we planned to stay the night. We made it to Poteau with no
problems, and stopped at the usual motel, the American Inn in Poteau. It's
a clean motel, and best of all, IT'S CHEAP!!!!! Before we tied the bikes
down for the night, we took off and went to Heavner Ruin Stone state park,
where there is a FANTASTIC view of the valley below, and the mountains to
the east. We'll be there tomorrow!!!!!! We headed back to Poteau, where
Rich, Steve and I went to Western Sizzlin for dinner, as a pizza that the
others suggested didn't sound good. Finally, back at the room for a couple
of cold ones, good conversation, and then to sleep!!!!!!!!!!!


Day 2...April 17, 1999 Starting location, Poteau, Ok.

Another Beautiful Oklahoma Morning!!!!!! Adam and I shaired a room, and
got up a little early. We walked to a store to get a coke, and by the time
we got back, everyone else is up and getting ready to go!!!!! Finally left
the motel at 10:30, to head for a local resturant for breakfast. Nice
resturant with a buffet for only $3.99!!!!!! The waitresses were cute
too!!!!! After filling up (Us and The bikes!!!), we headed for Talamena
Drive. As I turned off of US-271 to OK-1, I thought to my self "Should I
have filled up again before I started this? Oh well, It's only 54 miles to
Mena!!!!!" BIG MISTAKE!!!!!!! Sadie (My Sporty.) climbed the mountain and
hugged the curves like a mountain goat!!!!!! Great Scenery, beautiful
hills, AND LOTS OF TWISTYS!!!!!!
Turn off on Talamena Drive...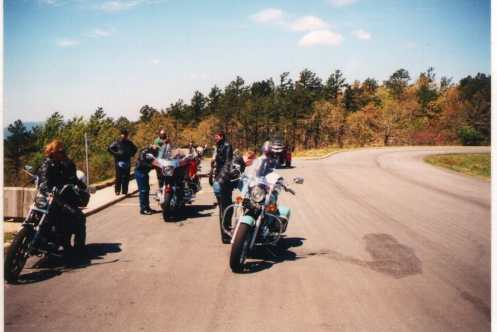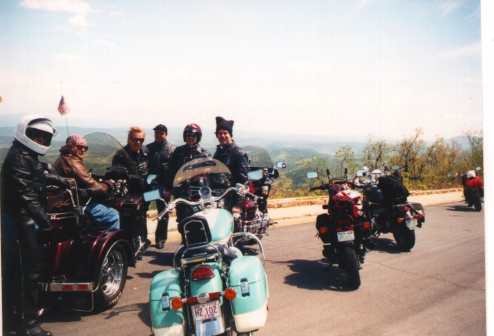 Bottom Picture (L to R): Roadkill Rich, Dave Stangel (on Trike), Fareweather Bill, Eric Rullens, DJ Wheeler, and Steve Jennings.
We stopped several times for pictures, and to video part of the run. About halfway to Mena, Adam on his CX-500
tried to make a curve a little too fast, and didn't make it!!!!! As I
round the curve, I saw the other bikes parked, and Adam picking up his
bike!!! From what he said, He slid off the bike, and down the sholder a
little. Not even a scratch on Adam, but his bike didn't make it as
good!!!! Total damage, a dent in the tank, a bent peg, and a bent
handlebar!!!! I'll give Adam this though, After he got his bike started
again, he jumped right back on it, and continued on the ride!!!!!! I don't
know how he rode it with the handlebar bent like it was!!!!! Anyway, Adam
now has a road name, "Slider"!!!!! Made it to Queen Wilimena lodge, and
stopped for more pics.
We now only had 13 more miles to Mena. I checked
my gas, and said to the others, "Well, I guess we'll know if I can make it
in a little while." I DIDN'T!!!!! About 4 miles down the road, Sadie
sputtered twice and died!!!!!! Well, there I was, about 6 miles out of
Mena, and OUT OF GAS!!!!!!! I asked Eric if he would go to Mena and get me
some gas. He took off, and Rich and I enjoyed the quiet, and fresh
mountain air!!!!! A few minutes later, here came Adam, bent handlebar, and
all, with a Gateraid Bottle full of gas!!!!!!! I fired Sadie back up, and
off we went to Mena!!!! To answer the question, YES I MADE IT TO
MENA!!!!!!!!!
We Filled up again at Mena, and started discussing the
direction we wanted to go from there. Rich suggested Hot Springs, as the
trip there was really nice. Eric had to head back to Plano, so we said our
good-bys, and headed to Hot Springs, with another gas stop on the way. We
got a piece of pipe there, and straightened Slider's handlebar out. We
arrived at Hot Springs, and stopped at Stubby's Barbeque for dinner.
AWESOME BARBEQUE!!!!!!
We were talking and enjoying each other's company,
when DJ asked Roadkill what he did for a living. He Said "I hate it when
this comes up!!!!" He Said "See if you can guess. I work all week with
possably 1 day off a week. My busiest day is Sunday." I said "You're a
preacher". Sure enough, I was right. We talked for about another hour,
and then Rich said he needed to get back home to Texarkana, as he needed to
be there in the morning. So again we said our good-bys, and left the
resturant for a motel. This left "The Seagate Gang".
We locked the bikes down for the night, and walked about a mile to a local bar. As DJ and I
were leaving the motel, two "Ladies of the evening" were at the phone
booth. As we walked by, one of them shouted as us "WOOOO Nice
Butts"!!!!!!! To which I turned around and said "Thank You"!!! Talk about
a pump-up!!!!! We get to the bar, and order a couple of drinks. We get
our drinks and are standing at the bar (Hey, I just rode all day!!!! I
don't want to set down again yet!!!!), when what starts playing from the
jukebox? "Heartbreaker" by Grand Funk Railroad!!!!!!! I couldn't believe
it!!!!!! It just made the night!!!!! We drank our drinks, and watch the
entertainment, which was a few of the local ladies dancing and having a
good time. Finally, about 10:30, we made it back to our rooms, and another
good nights sleep.

Day 3....April 18, 1999 Starting Point, Hot Spring, Ark.

DJ and I got up about 9:30, and left the motel about 10:00. We went to the
"Waffel House" for breakfast and a quick cup of coffee. We finally got on
the road about 11:30 again!!! We headed north out of Hot Springs on Hiway
7. From Hot Springs to Harrison, Hiway 7 is one beautiful road (I guess it
wouldn't be if you were a trucker!!!!)!!!!!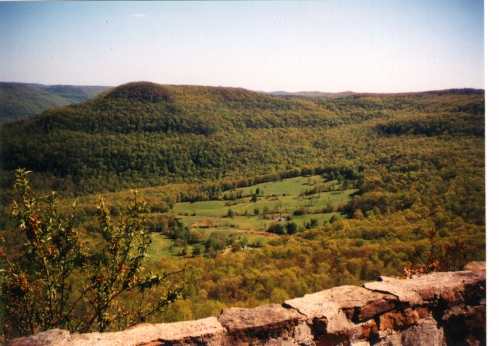 View from Highway 7, Awesome!!!!!!
Miles and Miles of nothing but Hairpin curves, switchbacks, and BEAUTIFUL SCENERY!!!!!! This is Talamena
times 4!!!!!! We made a stop at a rock shop outside of Hot Springs, where
we bought the required souvineers for the family. Made another stop at a
roadside park for pics, and a break. My Hay Fever started kickin in here.
Man, you ain't lived till you're on a bike, comin up to a hairpin curve,
and ya gotta sneeze!!!!!!!! The rest of the guys wanted to call me Sneezy
after this stop!!!!!
We took off again, and made it to Ola, Ark. We
decided to stop and wait for Dave. Well, we waited about 30 minutes, and
NO DAVE!!!!! We had passed I-40, and knowing Dave, we decided he must have
headed back toward Oklahoma City. TUrned out we were right!!!!! We got
back on the road, and continued through some of the most beautiful country
I'd ever seen to Harrison. There right about Arkansas, when they call it
"The Natural State"!!!!!
In Harrison, we found another Western Sizzlin,
and stopped for dinner. I was paying for dinner, when a man in line
noticed my GFR keychain on my pager, and said "All Right, Grand Funk!!!!
I'm from their home town, Flint Mi"!!!!!!! Well, I talked to the guy for
about 15 minutes. Never got his name though!!!! Back on the road
again!!!!! DJ and I somehow got seperated from Steve and Adam, and took a
wrong turn.
By the time we got back to the right road, they had passed by.
We took off trying to catch them, and road like crazy to Eurkia Springs.
Got there about 7:00. Dj and I decided to go on to Miami, Ok. as we had
told the others if we got seperated to meet us there. So back on go the
thermals, and off we go!!!!!!! US-62 west of Eurkia Springs is another
beautiful road!!!! More Curves and twistys!!!!! About 11:00, we made it
to Joplin, Mo. 20 More miles to Miami!!!!! IT'S COLD!!!!!! Funny thing
though, the closer we got to I-44 in Joplin, the warmer it got!!!
By this time, my butt is screaming GET ME OFF THIS BIKE!!!!!!!!!! At 11:30, we
pulled in to the Townsman Inn in Miami. No Steve or Adam though!!!! We
get our room, and start callin Steve on his cell phone. When we finally
got a hold of him, He and Adam were at DJ's cabin on Grand Lake!!!! 20
Miles from where we were!!!!! As we had already paid for the room, and I
DIDN'T want back on the bike tonight, we talked for a couple of hours. DJ
said "We gotta get you a new road name!!!! You ain't no Fareweather, You
push it to the limit!!!!!!! You're the EXTREME!!!!!!!" Thus my new road
name, "The Extreme"!!!!!!! After 2 hours of relaxing, we crashed
HARD!!!!!!!!!!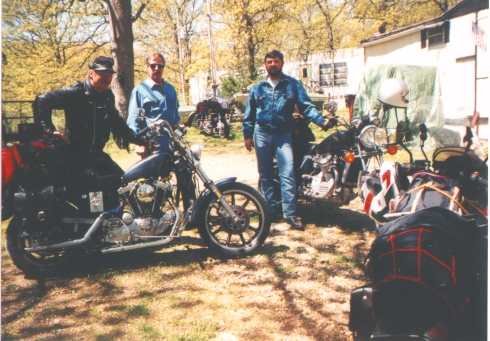 DJ's Cabin at Grand Lake.

Day 4....April 19, 1999 Starting Point, Miami, Ok.

A Beautiful Oklahoma Morning!!!!!!!!!! Temps have been increasing all trip,
so this morning dawns at about 60 degrees. Another late start! We got
around, and left The Townsman at about 10:00 to head to Grove, Ok. and DJ's
cabin. He has some tools there, and Sadie's chain is in need of
tightening.
We get to Grove, and Steve and Adam are ready to go!!!!!
WAIT!!!!!!! Sadie needs some work!!!!! I get Sadie road ready again, and
we head to town for Lunch. After filling up again (Us and the Bikes!!!),
we head out on Scenic Hiway 10 toward Talaquah, Ok. Another great streach
of road that parallels the Illinois River. I have enough gas to make it
further, so no stop in Talaquah. We stop outside of Muskogee, Ok. for a
Sadie stop!!!!!!!!! Now, were ready to head to Okmulgee, Ok. Make it to
Okmulgee, with no problems. Boy, after all the curves, these straight
roads are BOREING!!!!!!! Another Sadie stop, then on the road again!!!!!
We catch I-40 for a 17 mile strech at Henryetta, Ok. Time to streach Sadie's
legs a bit!!!!!!! 75 to 80 MPH!!!!!!!! I'm climbing a little rise on the
hiway, when I feel that scary feeling of lost power!!!!!! I say to her
"Come On Baby, just a little further!!!!" She responds the best way she
could. With a roar of returned power, we rocket down the road!!!!!!!!

Final Sadie stop at Meeker, Ok. We ask the attendant where a bar was for a
final drink together. She directs us toward Shawnee, Ok. where a bar sets
on the west side of OK-18. A couple of drinks, two final pictures, a pool
game or two (and A call home. "I'll be there in an hour or two!!!"), and
we're on thre road again for the last dash to OKC!!!!!!! We catch I-40 at
Shawnee, and settle in for the last run. As DJ, Steve and Adam live west
of OKC, I pull off at I-240, and hit the last 12 miles to home. Sadie is
crusin, and I'm happy to be this close to home!!!
Sadie had set for 2 years before my wonderful family bought her for me for Christmas, so I was
thrilled at her performance on this trip. I'm passing the 7 mile to go
mark, when she loses power again and sputters twice!!!!!! Oh No!!!! Not
this close to home!!!! So again I start talkin to her. "Come On
Sweetheart, just 7 more miles!!!! I promise when we get home, I'll put you
in your garage for a nice long rest"!!!!!!! Again, I get pushed back into
the seat as she takes off!!!! To answer the question, Yes, Sadie got me
home, safe and sound, and yes, I put her in her garage when we made
it!!!!!! As I pulled in the drive, and parked her on the driveway, and
shut her down (She died with a grateful gasp!!!), I shouted at the top of
my lungs "YESSSSSSS!!!!!!!! 1100 MILES IN 4 DAYS!!!!!!!!!" My family
thought I was nuts!!!!!!!!!!


So, OK-1 goes into the history books as a complete success!!!!! Thanks
again to all the riders that joined us!!!!!!Now I have a question....ARE
YOU READY FOR OK-2?!?!?!?!?!?!?!?!?!

BTW...Dave made it home OK. Like we thought, he turned west at I-40 off of
Ark-7!!!!!!!!!

Oklahoma's Own;

Fareweather Bill (THE EXTREME!!!!!!!!!)

wpp