CHECKING IN FROM NY, 31 May, 1999
Hey all,
Tired... Hot... Sore... Home!

Thank you to:
Marc and Barbara, for showing me the way there in more ways than one.
Guy, our very own rolling Civil War tour guide.
Ron, for not snoring last night.
George, Here's to you, pal! Hopefully you get to keep the wife, and the house.

On the home stretch tonight, I realized that I am now firmly back in the saddle. Sometimes a little too hard, depending on the road.
I'm also:
1/2 inch shorter, lets see how a warm bath does for that.
3 lbs lighter! Motorcycle your excess weight away!?!? If anyone finds those 3 lbs on the side of I-84, just mail 'em to me.

Rolling Thunder as an event sucks. As a get together... I love you guys!
Cash offered for an extra ride pin, btw. Couldn't find one.
More later, bath now.
-Smitty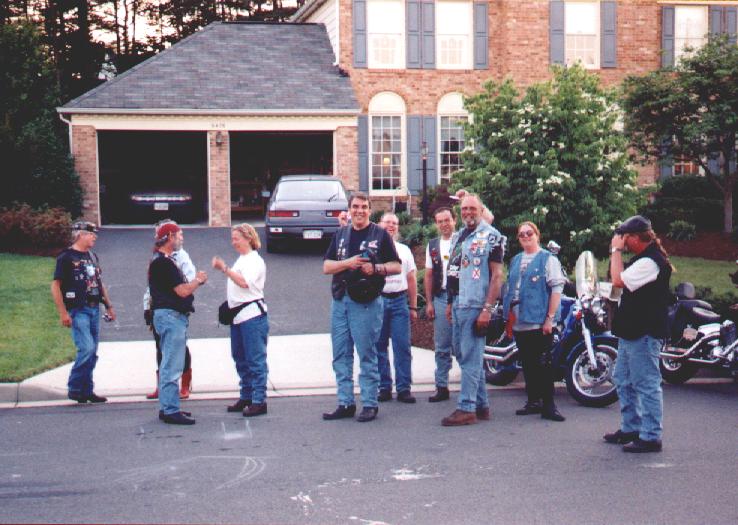 Some of the Group, standing in the street ruining George's neighborhood values......

Safe return from Rolling Thunder, 980 very hot miles. Temps were in the 90's the entire weekend.

Rolling Thunder is the most incredible M/C event I have ever seen. It is hard to imagine so many motorcycles in one place. Try to imagine the
largest mall parking lot toy know. Triple that size and fill it with motorcycles. Unbelievable. I have problems with the claim of 150,000
M/C's, but it may be so.

This event is best described as a friendly cluster-fuck. Chaos reigns supreme. I would not like to be incharge of this one. But everyone seemed
pretty patient and understanding. A interesting reaction from some of the most individualistic people you could ever meet. I figured it would be
chaos and I was not disappointed. But I was determined to run it and I did.
I will probably will never do it again though.

My story.

I met Guy in Binghamton as scheduled. We departed about 6:15 PM. I
expected a 6 - 7 hour ride. It was much longer than I expected. I expect
to arrive about midnight, but at that time we were only to Baltimore, and I
was falling asleep in the saddle. I nodded out once or twice to find myself
in a different lane. I made it to the next rest stop and walked around and
loaded up on coffee. I had 45 mins to go and decided to try it. I was OK
and we made it to George's neighborhood without incident around 2 AM.
Funny thing, his directions said he was the ninth house on the left, but in
my infinite wisdom, I decided it would be easy to find the house with all
the motorcycles in the front. Well there was not one M/C to be seen. My
head was messed up. But then there was Marc flashing a light as a homing
beacon ,a welcomed sight. They parked all the M/C's in the garage, out of
sight. Even though I was so tired, we still managed to shoot the crap for
another hour.

When I woke up, there was Bugs and Magnolia (a woman with a most commanding
presence, and apparently the ability to handle Bugs), Barbara, Marc's
daughter Mariel (I hope spelling is correct, no offense Marc) and Marc
(Merlin), Terri who rode down on a 200 Honda, Larry Smith (1100 ACE) from
Westchester. I hope I didn't leave anyone out. Of course there was George.

George did a excellent job of hosting our rag tail group. At times it
appeared that the task was overwhelming, but I would feel the same way if
that group stayed at my house. George and his charming wife Lisa keep a
very neat home. The Roadhouse group is not exactly what you would call
neatnicks and George's house temporarily took on the appearance of a
handgrenade range with people and Roadhouse stuff all over the place. Their
boy Evan seemed to enjoy the company, especially Bugs.

This was one half of our contingent. The other half was to be over Wes'
house. By noon on Sat, only Torque had arrived. We decided to drive to the
Wall. It was great to see over bikes in DC. Most of us went to the Wall,
the Korean Monument and then visited Thunder Alley to spend money at the
vendors. We returned to George's for a BBQ and was delighted to find Nikos,
his friend Muffy. Tony (the butt) Magliaro, Tom Amrozowicz from Phoenix and
his son. I hope I left no one out, but they say the mind is the second
thing to go.

I have to go to bed, but tomorrow I hope to related some unique experiences
at the Rally

I had a great time. I am so thankful for the Roadhouse, because without it,
I probably would not have been either to the Gap or RT. Thanks Marc and the
group.


Ron Harris
86 VT1100C
Groton, NY
AMA

Ride Safe and Prosper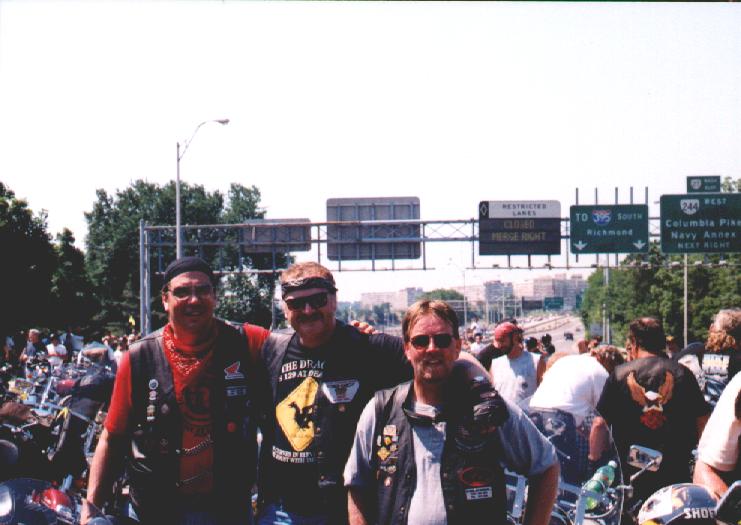 Salty, Guy and Torque, getting ready to run.....

Well 1,572 miles later I am home safe and sound and veeerry tired. I
enjoyed meeting everyone. Rt was something every biker should do at least once.
Hope everyboby is ok I am going to bed will type more later.
Torque


And once I think is enough for me. This trip was 1127 miles for me bringing
my total Roadhouse miles up to 4630. This is one great group.
Guy Lounsbury (another wordy one, hun?)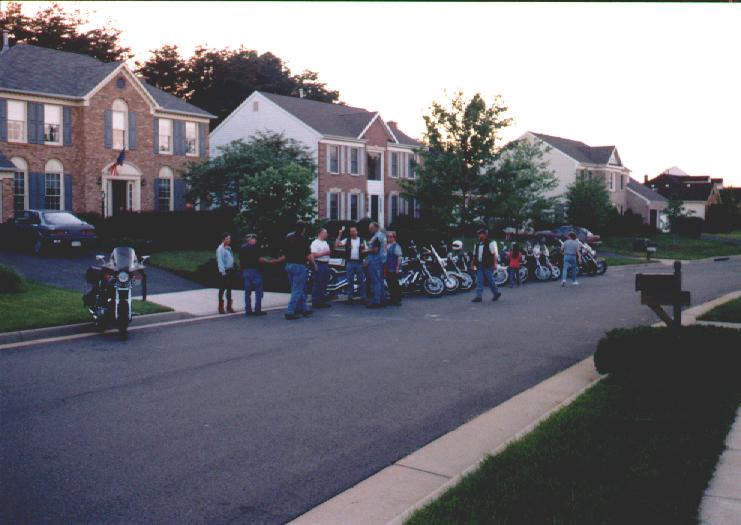 The Group, youse guys got to quit hanging out in the slum areas or DC, go to Burke instead....

To pick up my perspective from where I left off.


Sunday morning started out as another hot one. At George's, we got
ourselves on the road and headed to a Denny's for breakfast. Everyone got
their breakfast and filled up their tanks. Then we were off for our 10AM
meeting with the other half of our group staying at Wes'. Things didn't
quite go as planned from then on. I was back in the pack so I didn't know
just what was going on, but because of traffic or a communication fault, we
were delayed getting to Wes' place and when we arrived, they had already
left. Keep in mind, Bug's was also meeting some of his buddies from his
confederate group where we were supposed to meet our other half of the
group. This connection was important, and it appeared that we missed it.
It would be fair to say Bugs was a little upset.

We hustled our group to the meeting point where we saw a bunch of bikes
pulling out from the general area we were supposed to connect. I shouted
for us to join this group which we did. There was a tremendous sense of
disappointment that we missed our fellow Roadhouse members. We rode behind
this group for a few miles. Somepoint along the way, the group that was
returning early to NYC pulled off. For some reason Bug's followed this NYC
group and I figured we would never see him again. The tail gunner of this
group we were following signaled us to join his group and I was relieved
that at least we found an adopted home to get us to Rolling Thunder. It was
a welcomed invite. I noticed a guy on a Harley that was wearing some
Confederate patch and I figured what the heck and asked him if he knew Bugs.
When he said he was supposed to meet him, I nearly crapped my pants. We had
fallen into the group we were supposed to meet, but unfortunately Bugs had
peeled off.

When we reached one of the Pentagon parking lots and could stop, I checked
the group and found the rest of the Roadhouse group there. I was so
relieved. There was Nikos, Buffy (Sorry about the typo on my earlier post),
Tom and his son, Tony, Torque and Roadkill. I was delighted. We were a
family again. I invited the Confederate group to join us, which they said
they would.

We spent some time shooting the breeze, had Tom bless our bikes and decided
to get into this tremendous line to get to the staging area parking lot.
There was this huge sea of bikes, And it was HOT, HOT. we were roasting.
We had some time trying to keep every close but managed to get ourselves
staged for the parade. Now the baking began. We were sitting in this very
huge parking lot roasting away. It was about 11:30 and it was obvious that
we were going to be there a long time. We discovered that the Confederate
group got lost in the crowd. I felt sorry for them and for Bugs. They were
so near each other, yet so far.

We went to get some water from the CMA tent, but they ran out. But to our
amazement, there was Bugs in this line. We found him. It was good to see
him again. It appeared that we never made it clear that some of our group
would be splitting off and Bugs just fell in behind them. It didn't matter,
we found our lost brother. I explained to him we found his Confederate
friends and tried to guess where they might be in this huge crowd. I looked
at this small group standing off to the side maybe 30 feet and saw a vaguely
familiar face. Then I noticed the patches and low and behold, there was
Bugs group. In the vast sea of people, we managed to get everyone together
and complete our original plan. This verged on a miracle.

The heat began building and people started dropping from the heat. The
organizers brought in a Fire truck which began hosing off people. What a
relief. That water felt so good and really helped. The thermometer on NY
bike read 115 - 120 degrees. Brutal.

The heat took it's toll on our group. Many decided not to brave the heat
and wanted to get started home. George's bike decided to pour out coolant
just as we parked, so He wisely chose not to join the parade and to head
home. Larry would ride with him for support. By the time the parade began,
I believe only myself, Guy, Tom Roadkill and Bugs rode the actual parade
route.

The parade started 5 mins late at 12:05. Bikes started out. It took until
almost 2PM for our group to start and there were still 25% of the parking
lot filled to start.

Well, we did the parade. It was hot, but it was a thrill. People lined the
streets, waved, saluted and cheered us on. It was impressive. I was proud
to have done it. This parade was very confusing, and I lost all contact
with everyone except Guy. We managed to stay connected. Like I said, this
was a glorious cluster-fuck.

After the parade, guy and I made it back to George's place. Guy and I had
talked about taking a trip to Gettysburg and figured we were so close that
we would go there. Larry decided to join us. We said our good-byes to
George, Lisa and their lovely son Evan and began a sight seeing tour.

We went to Manassas to the battlefield, spent an hour with Guy explaining
the history and then headed up Rt 15 to Gettysburg. It was a nice ride and
a change from the super slabs. We reached Gettysburg around 8PM. We got
our motel rooms and had a fun dinner in an Irish Pub. It was a good time
with good people. We walked around Gettysburg to walk off the meal and
headed back to our motel for some well needed sleep.

Monday morning we had breakfast and spent about 4 hours going over the
battlefield. Guy is a Civil War buff and he made it so interesting for us.
He put the various battles into place and added great color to the story. I
got so much more out of this visit thanks to him.

By 1PM it was time to head for home. We slabbed it home and outside of a
truck losing a wheel in front of me, the trip was uneventful except that it
wrapped up a wonderful weekend with the Roadhouse.

It was a trip I will never forget.


Ron Harris
86 VT1100C
Groton, NY
AMA

Ride Safe and Prosper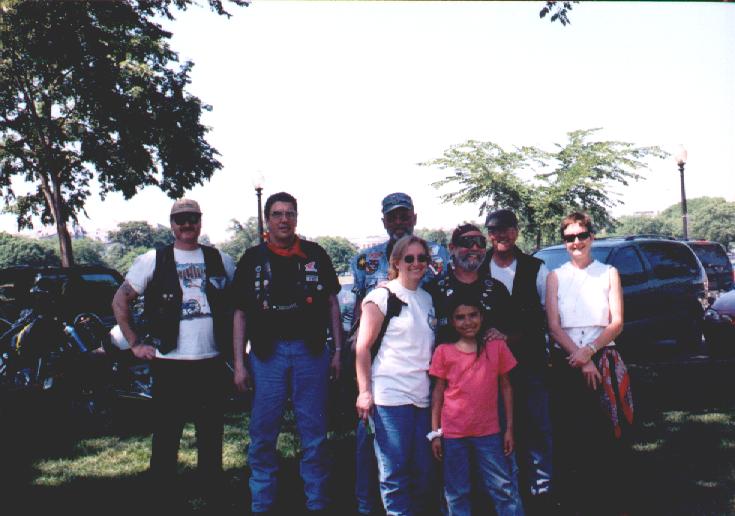 Group ride, Saturday in DC....

First, I want to thank George and Lisa, and Wes, Tim and the other Lisa for
the hospitality.

The Jersey contingency (Tony, Buffy and I) rode down on Saturday, and after a
couple of minor timeconsuming setbacks due to traffic and bad road management
from the great state of NJ, we made it to George's. Stops were made for
refreshment since the weather was hot and sunny, and a somewhat late lunch at
the Baltimore seaport. After we had lunch, listen to some parrothead music
off a boat docked nearby, had the tourists take pictures with our bikes,
explain to a future motorcyclist of America (Michael, about 6 years old)
about bikes, and we got our Maryland pins, we took Rt 395, passing Camden
Yards, to get back on Rt. 95 towards D.C. We took the Beltway around DC and
exited on Rt 66, got directions from Lisa (George's) and a contingency guided
us to George's for a barbeque.

I hope George will not be kicked out of his development since a lot of cars
stopped to look at the bikes lined up on the street, and most were not
pleased, although some made multiple passes to admire them.

Later, Torque, Tony, Buffy and I followed George's car back to Wes' house,
with the temporarily grounded from bike-riding Wes in the car, and spent the
night at Wes'.

In the morning, Wes' dog made sure I got my morning work out, chasing her
twice for an approximate total of a 3 mile jog, and then we were off to the
meeting site.

>From there, we followed a couple of local riders to the Pentagon parking lot,
where we joined in the stop and go traffic to the gathering across 395, with
the HDs pushing their bikes and us rice-burner-riding motorcyclists showing
off our water-cooled advantage.

Following a stint in the 104 degree parking lot, we got our pins and drinks,
and proceeded with some of the other riders to the Wall. The show stopper
was a little kid (about 7-9 years old) on his little scooter riding just
ahead of us. When we broke off to head up to NJ, with folks unwilling to use
the narrow width of their mc's to bypass the traffic, I realized that we had
acquired a new tail. Then I realized that it was Robert. Also we acquired
another rider, a Goldwing, who proceeded to ride with us until we got to the
first Rest Stop on 95, where we stopped for refreshments and he continued
north.

On 695, Robert broke off and we continued up 95 back to Jersey. Around 8
p.m. we exited the NJ Turnpike and Tony headed north on the Garden State
Parkway, while Buffy and I proceeded south.

To be continued....

Nikos


Well now that I have had some rest and my mind is back to normal.
Well at least as normal as my brain can be. I would like to thank Wes
and George for there hospitality. This wouldn't have worked without you.
As for RT it was an amazing event,but I agree that I would rather
ride alone or with a few good friends from the Roadhouse. I like to keep
things simple. After all thats the whole meaning of riding for me is to
simplify things.
It was good to meet everybody. Now when I read an email I can here
the persons voice who wrote it.
Sorry to here about your crash Rob. Glad to here that you are ok.
For those who weren't there,them aircooled hogs were sufferin somethin
awful. There was more of them being pushed than being ridden in the
bumper to bumper traffic.
I rode home in the rain Sunday. It was pleasant. Nice,cool and wet.
Ran out of gas in TN.Thats what happens when you are just puttin along
with not a care in the world and the time and miles slip away from you.
Had to hitch hike to a gas station. Been 20 years since I hitch hiked
anywhere. Took the guy to Denney's and bought him lunch.
Well it's back to the old grindstone for me.
Later
Torque


I just resubbed about 10 minutes ago, so I missed all the evil things you
said about me yesterday. Nolyuh and I decided to run up to Harpers Ferry
and Anteitem sunday, and had a great trip there. She'd never been beyond
the Mason-Dixon line, so we HAD to go on to Pa and just cross the line.
There is a road that runs right along the border between US 11 and I-81, so
we rode that for it's 2 mile length, so Nolyuh could share in the wonderful
thrill of clandestine invasion.

What a grand time we had. It was a very big highlight to meet all the
'Housies, and especially to share in the hospitality of our host and his
stunned but gracious wife. Wes--is Lisa speaking to you yet??

Merlin, you guys missed an awesome site with al the bikes gathered in the
Pentagon lot. They ran outta water and brought in firetrucks to hose down
the victims. Just like Chlle or someplace...

And lastly, I need to spoloogize one last time for getting cranky. It just
doesn't work to have too many items on the ole agenda, you'd think an ole
bear like me would know this, but it was starting to get frustrating to put
everything togeher. My Irish templer lets me blow up and cool down just as
fast, so nuf said...

In spite of being unsubbed, I still had 128 messages. That new Vespalist
is really quite interesting, some wonderful boys iover there sharing and
caring and making meaningful remarks about the fun and joy in Vespa
ownership. What a nice idea...


Professor Bugs, Chairman,
Department of Political Incorrectness
Confederate University

Salty and Bugs, the real memorial behind....

Rolling Thunder was awesome. That many bikes for a great cause.
Awesome. And meeting other roadies. Super. Thanks Robert for meeting me in
Hagerstown for the ride in. I'll be looking for a post on George Laing's
bike peeing all over the Pentagon parking lot. The gutsiest rider award goes
to Angela. ("You've been riding for 3 weeks, what are you going to do now?"
"I'm going to Rolling Thunder.") And great to meet Wes "looking for a
Beemer", Professor Bugs, Magnolia, Torque, Ron Harris, Tom A from Arizona,
and I know I'm forgetting others.
My ride home was not as much fun as it could have been. 1139 miles
in two days is my limit, I think. Fought a cross wind the entire second day
(598 miles) from Crossville, TN to Texarkana. But now that I"ve had a good
night's rest in my own bed, where's the key. Oops. Empty wallet. No money
for gas. Guess I have to go to work. Shucks.

Roadkill Rich _I__---\
Texarkana, AR O+++O
'98 Shadow ACE Tour (Jade/Ivory)
Sun above me, Shadow around me, Roadkill beneath me.

I'm hoping this makes it thru to youse guys in the Roadhouse....I have to
tell you that our trip Nawth was made even more enjoyable in being able to
meet some of you that Babykakes Bugs thinks of as his extended family !
George, thanks to you and Lisa for opening your home to us----your
hospitality and generosity make you very special. Marc and Barb---it was
great to put faces with names and have a chance to talk with both of
you....Mariel is beautiful and sweet and you're both very lucky ! I
admire you, Barb, for being patient and uncomplaining when your bike was
being difficult ! Guy, thanks for sitting with me when I was out on the
verandah being sinful and keeping me laughing about that dreadful song
"Sugar Magnolia"----it was nice to hear about your daughter's beginning bike
adventures. Smitty, you really kept me laughing and I knew as soon as you
started on the director routine in George's front yard that I was going to
like you----and besides, you got the fastest bike there. Somebody tell
Terry that I thoroughly enjoyed our conversations and her sense of fun and
adventure----and tell her to get a computer so we can all keep up with her !
Salty, your timing and sarcasm was refreshing and even tho' Guy says you
were bitchy, you and I both recognize that as an art form so que sera, que
sera, huh ?? Nikos, thank you for the ceegar---my first in a long time
and a nice way to celebrate being at the Ride ! Roadkill, I would love to
hear one of your Sunday chats---someday I plan to---it was so good to
finally meet you. Torque, I'll think about you whenever I hear a Prine
tune----there's too many favorites to narrow it down to one but I think I
could listen to him every day and never get tired of him---and I'll let you
know when he's in town again so you can make plans to go with us.
Unca Freddie, we missed you sorely and you'da had as much fun as we did and
would have rounded out the group, I know.

Being able to do the Ride was one of the most awesome experiences of my
life----I still get goosebumps thinking about how it felt when we turned on
to Constitution Avenue and I saw all the people waving and
high-fiving....meeting all of you made it even more special to me. We had a
great trip coming home and saw "many wondrous thangs"....thank you all for
making it a most wonderful vacation for us !
Nolyuh

PS: Marc----how DID you make that half dollar get in my hand ?????


END, so far......