Dave Marcil
Our small, but hearty, band of riders met on Friday,July 31st. The agreed meeting place, Denny's Restaurant in Albany, NY. Our group of six arrived between 5:30 and 6:30, thanks to a few wrong turns and traffic jams. Meeting at Denny's were Guy Lounsbury, from Altamont, NY, on his '97 Spirit. Allen Halstead of ?, NY on his '96 VT1100. Marc Mauss (our gracious web host) and Barbara Pirrone, of Long Island, on an '86 Shadow and an '83 Sabre V45. Dave Marcil of Southampton, Ma on his '98 Royal Star. And lastly Phil Scott, of Holyoke, Ma on his '98 Buell S3T (leaking shampoo).
The thumbnail nail pictures to the left can be clicked for a larger version.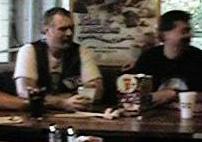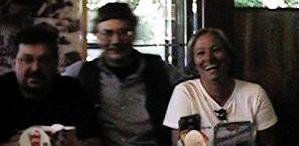 Dinner @ Denny's
The Ancient Greek God of Motorcycling, Gofastus, smiled on our intrepid group of travelers, blessing us with safe riding and beautiful weather.
After a leisurely and chatter filled dinner (are your ears burning Bugs?) we departed for points north, namely Ticonderoga, NY. Parting ways with Allen, who could not make the ride due to work obligations, the band of five headed North on Rte 87 at a brisk pace. With Marc leading and Barbara riding drag, we arrived at the Lord Howe Motel at 10:30 PM with only a few "practice u-turns".
Prying our frozen fingers off the grips, our first order of business was check-in..second order, find the beer! Locating a local convenience store, we armed ourselves with supplies. Reinforced by Ron Harris, who arrived at 11:30 to help us conquer the beer supply, we proceeded to terrorize the hotel populace by remaining outside the hotel swapping lies and telling stories till the wee hours of the morning.